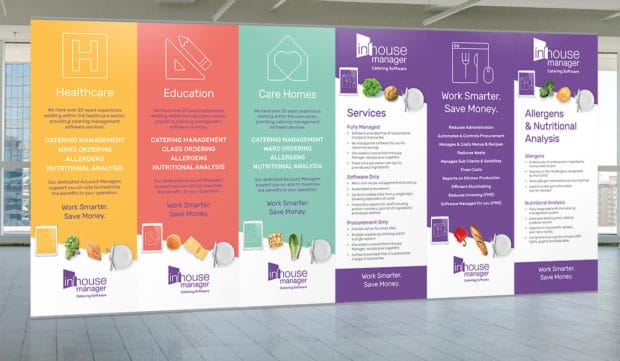 May 10, 2017
'Stand-Out' Exhibition Stands for In-house Manager
In-house Manager is the software solution for managing busy kitchens in education, healthcare and care settings. In-house Manager are a very forward thinking company that we met at the LACA exhibition last year at just the right time. They were looking to raise their profile in the industry and revolutionise the way kitchens are managed across multiple sectors – so it was a very exciting time to join them on their journey.
Through our close collaboration, we're discovering some superb insights into the education, hospital and care sectors. We have been able to flex our creative muscles and find innovative ways to reach their prospects in a meaningful way. Oh, and they are also really lovely people to work with.
"We have been working with Allen Creative for almost a year now, starting with a complete overhaul of our branding, and most recently, new exhibition stands.  They have a talent for being able to interpret my rambling ideas into something meaningful, which I am truly grateful for!  Customer service is excellent too – I wouldn't hesitate to recommend Michelle and her team."
Business Development Director – In-house Manager

In-house Manager will be exhibiting (with the 'stand-out' stands we have recently produced for them) at: the Gloucestershire Association of School Business Management Conference in Cheltenham on June 23rd, the Southern Education & Academies Show in Farnborough on June 28th, the LACA Main Event in Birmingham on July 5th, the ASSIST Conference in Glasgow on August 24th, the Multi-Academy Trust Conference in London on September 27th, the Education Leaders Conference in London on September 28th, the National Association of Care Catering Conference on October 4th, the Midlands Education & Academies Show in Solihull on October 11th, the EduKent Expo and Conference in Kent on November 8th and the Academies Show at the NEC Birmingham on November 22nd.
Recent Posts